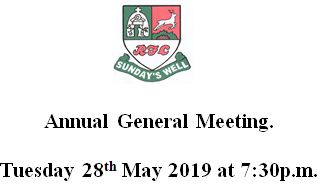 AGENDA.
Minutes of A,G.M 2018.
President's Report.
Hon. Treasurer's Report.
Youths Officer's Report
Captains Reports
Mixed Ability Rugby Report
Election of Officers.
President.
Senior Vice President.
Junior Vice President.
Chairman.
Hon.Secretary.
Hon. Treasurer.
Three Executive Committee Members.
P.R.O.
House Officer
Membership Manager
Director of Rugby
Club Captain
Head Coach
Appointment of Auditors.
Approval of Club Trustees
Any Other Business.
Any Nominations or Notice of Motions must be sent to the Hon. Secretary before 14 May 2019