REMEMBERING TED BUTLER

     "My glory was that I had such friends."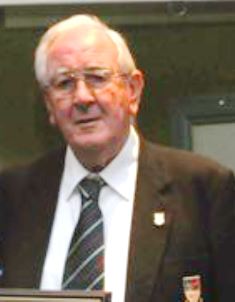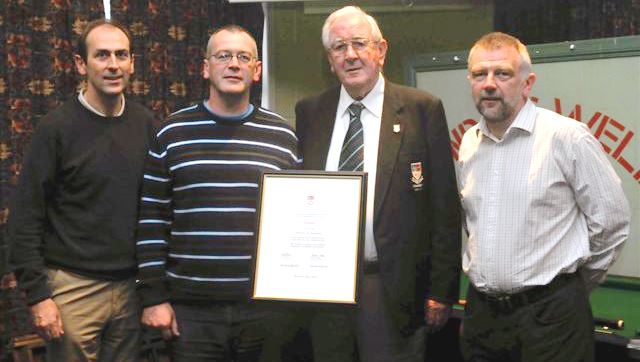 Going into the club house on a Saturday for the pre-match lunch, I was always delighted to see Ted Butler, a gracious man who had a friendly welcome to impart which gave a sense of what the 'Well is all about as a club, an association of people, united in a grouping of shared interest, a place of friends and friendship.
He summarised his enjoyment of the club by quoting William Butler Yeats: "Think where man's glory most begins and ends and say my glory was I had such friends."
I was fortunate to have been included on several occasions at Ted's table from where he so many times led 'Grace Before Meals' in his imitable way and where, with his charming wife, Anna, who always accompanied him, there was animated and enjoyable lunchtime discussion, hearing his opinions on club and other matters-of-the-moment. He not only enjoyed the 'Well but revelled in being part of the club where he had twice been President, from 1989-1991. The second year was at the request of club members and a response to his leadership when the 'Well gained access to the All-Ireland League in the 1989/90 season. The club honoured him by asking him to lead the 'Well into the first season of the new league.
Ted went to London at the age of 20 and from there to Cardiff where he managed a steel works. At his sister's wedding in Cork he met Anna O'Mahony and persuaded her that Cardiff would be a good place to live. Married in 1960, they were together for 59 years. When they returned to Cork, the 'Well, in the way it successfully manages to acquire staunch supporters, recruited him when he called to the club. He wanted to enrol two young sons. He did and the club officials who enrolled them also enrolled him!
As well as being twice President,Ted served on the club committee for many more years and, when he retired, was a regular at all home AIL games with his beloved Anna.
In 2011, under the presidency of Michael Barry Jnr., he was honoured with Honorary Life Membership.
At Ted's funeral Mass, one of his four sons, Martin, said that it was "the proudest day" of his father's life to accept the honour.
As Ted's health deteriorated, he still kept up his pre-match lunch attendance and, as much as possible, watched matches from his car.
Ted got pneumonia in May and was admitted to Cork University Hospital where he stayed for a few weeks before being transferred to Douglas Nursing Home where he passed away on Sunday, July 21.
The story of how he returned from Cardiff to Cork and became such a staunch part of Sunday's Well is best told by Ted himself, which he did in the Sunday's Well Centenary Book – "Away the Well – 100 years of Sunday's Well Rugby 1906-2006":
"In August 1973, after 20 years in Cardiff where I was a member of St.Peter's RFC, a club well-known to the 'Well and having made several Easter tours to them starting in 1948, I returned to Cork accompanied by my wife Anna and four sons, Martin, James, Tim and Finbarr,
"That September I came to the 'Well to enrol Martin and James, aged 10 and 8, in the youth section. There I met Tom McNamee, Tom O'Hara and Billy Kenneally and, having signed up the two boys, I was prevailed upon to get involved myself.
"So began my life with the 'Well, a decision I never regretted. In time my younger boys, Tim and Finbarr, joined and all four played with the minor, junior and senior teams. In the meantime I was serving on the club committee in various roles. Then in 1989 I had the great honour of being asked to become Club President.
"This was a very important year for the club as the results of the season would decide if we were to be admitted to the All Ireland League which was to commence the following year. After a hectic campaign, it all came down to the last match, which was against our neighbours Dolphin. A John Horgan try near the end have us victory and so the 'Well joined Cork Con. as the only Cork teams in the AIL.
"I was then asked to continue as President and so I had the honour to lead the club in our first season of the new league.
"A lot of things happened during my two years as President, but for me the one that stands out most was when we won the Junior League after 33 years and my four sons played on that team.
"I still enjoy my time with the 'Well and both my wife and I have made some great friends over the years because of our involvement. As one of my better-known 'ancestors', William Butler Yeats once said: "Think where man's glory most begins and ends and say my glory was I had such friends.
"Away the Well."
Ted has gone away, but will always be remembered and, next season, will be sorely missed, for such is the friendship which he gave to Sunday's Well RFC and such is the friend we, the club members, will remember him to be.